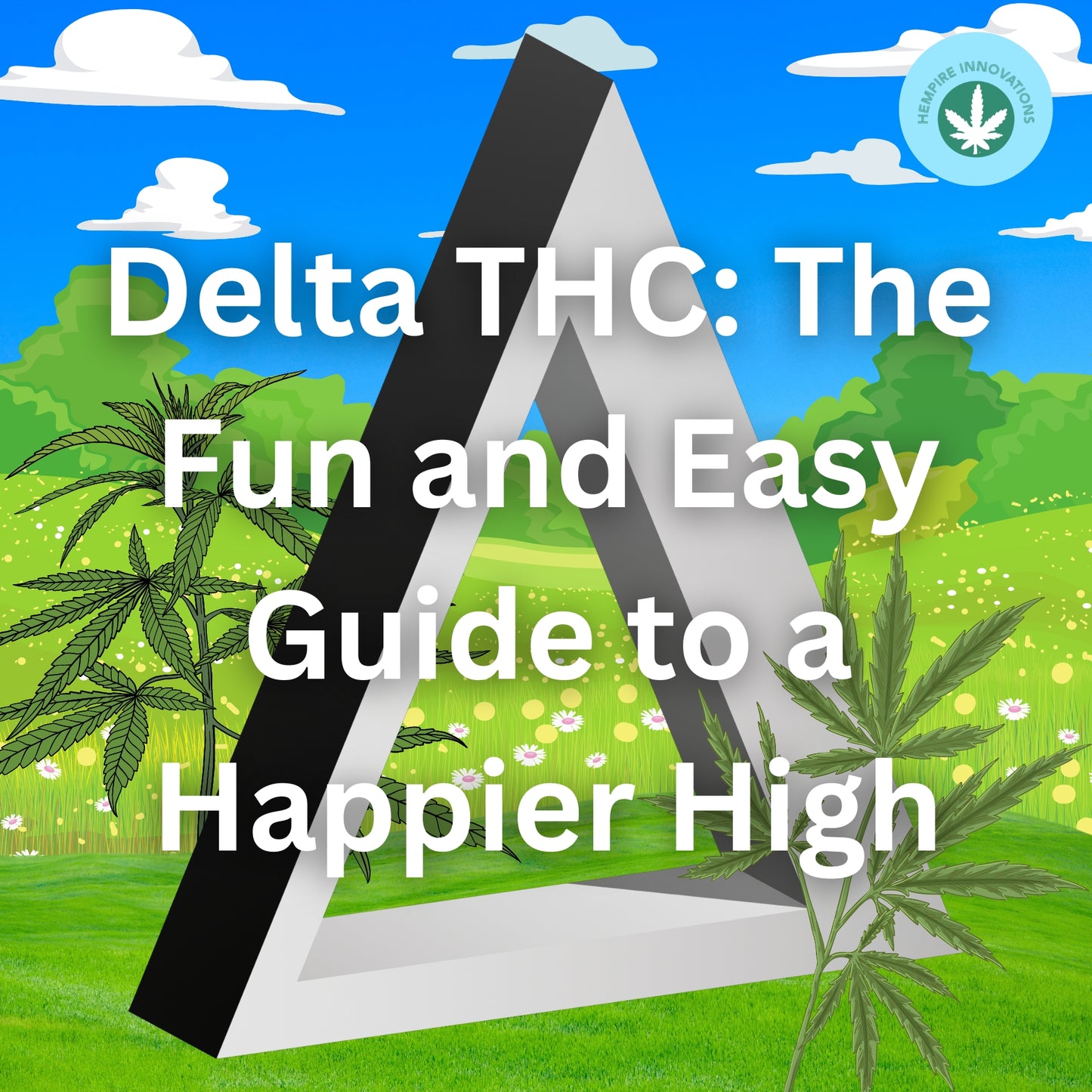 Cannabis has been a hot topic for years, and it's not just about a euphoric experience anymore. The cannabis world contains fascinating compounds, with Delta THC among the most exciting newcomers. In this fun and easy guide, we'll explore everything good about Delta THC, from its history and types to its legality and various forms.
The Origins of Delta THC
Delta THC, short for Delta-tetrahydrocannabinol, is a natural compound in the cannabis plant. You've probably heard of Delta-9 THC, the famous psychoactive ingredient that gets you high. But did you know there are other types of THC, like Delta-8, which have milder effects and some awesome benefits? Let's return to see how scientists discovered these groovy compounds.
Meet the Delta THC Family
Delta THC comes in different forms, like Delta-8, Delta-9, and Delta-10. Each one has its vibe, giving you a unique experience.
a. Delta-9 THC
Delta-9 THC is the life of the party. When you consume it, you can expect euphoria, relaxation, and a shift in perception. It's not always sunshine and rainbows, though – some people might feel anxious or paranoid.
b. Delta-8 THC
Delta-8 THC is like Delta-9's chill cousin. It gives you a more relaxed experience without making you feel overwhelmed. You'll feel calm, happy, and clear-headed. It's perfect for those who want to unwind without losing touch with reality.
c. Delta-10 THC
Delta-10 THC is the mysterious newcomer. It's present in tiny amounts in cannabis plants, and we still don't know a lot about it. Some early research suggests it might have mild effects, but more studies are needed to understand its full potential.
Is Delta THC Legal?
The legality of Delta THC depends on where you live and which type you're talking about. Delta-8 THC is legal at the federal level in the United States as long as it's derived from hemp and contains less than 0.3% Delta-9 THC. Delta-9 THC, on the other hand, is federally illegal but allowed in some states for medical or recreational use. As for Delta-10 THC, its legal status is a bit murky, so make sure you check your local laws before trying it out.
Delta THC to the Rescue: Medical Benefits
Delta THC isn't just about having a good time – it also has some serious potential health benefits.
a. Delta-9 THC
Delta-9 THC studies show it can help with pain, nausea, and muscle spasms. Its present in some FDA-approved medications for cancer patients and people with AIDS.
b. Delta-8 THC
Delta-8 THC is a rockstar in promoting reduction in nausea, especially for cancer patients undergoing chemotherapy. It's also known to have positive influence with appetite, anxiety, and pain relief.
c. Delta-10 THC
While we still don't know much about Delta-10 THC, early research shows it might have anti-inflammatory, pain-relieving, and brain-protecting properties. We can't wait to see what future studies reveal!
Fun Ways to Enjoy Delta THC
Delta THC comes in all forms, so you can pick the one that suits your style.
a. Edibles
Who doesn't love a tasty treat? Delta THC edibles like gummies, chocolates, and cookies give you a slow, long-lasting effect perfect for those who want a mellow experience.
b. Tinctures
Liquid extracts of Delta THC that can be placed under your tongue or added to food and drinks. They're super convenient and allow you to control your dose easily. Delta-8 THC tinctures have become popular for their chill vibes and potential benefits.
c. Vape Cartridges
Want a quick and potent dose? Vaping is the way to go. Delta-8 and Delta-9 THC vape cartridges offer a fast-acting experience, with effects usually kicking in within minutes.
d. Topicals
Topicals are creams, lotions, and balms infused with Delta THC that you can apply directly to your skin. They're great for targeting specific areas of pain or inflammation without having a psychoactive experience.
Conclusion
Delta THC is a fun and fascinating world with unique experiences and potential health benefits. Remember to stay up-to-date on the legal aspects and inform yourself thoroughly before trying Delta THC, especially if you have any health conditions or take medications.
Whether you want to kick back with some Delta-8 THC or explore the unknown with Delta-10 THC, there's a Delta THC product out there for everyone. Enjoy the ride and get ready to discover the goodness within these groovy cannabinoids!