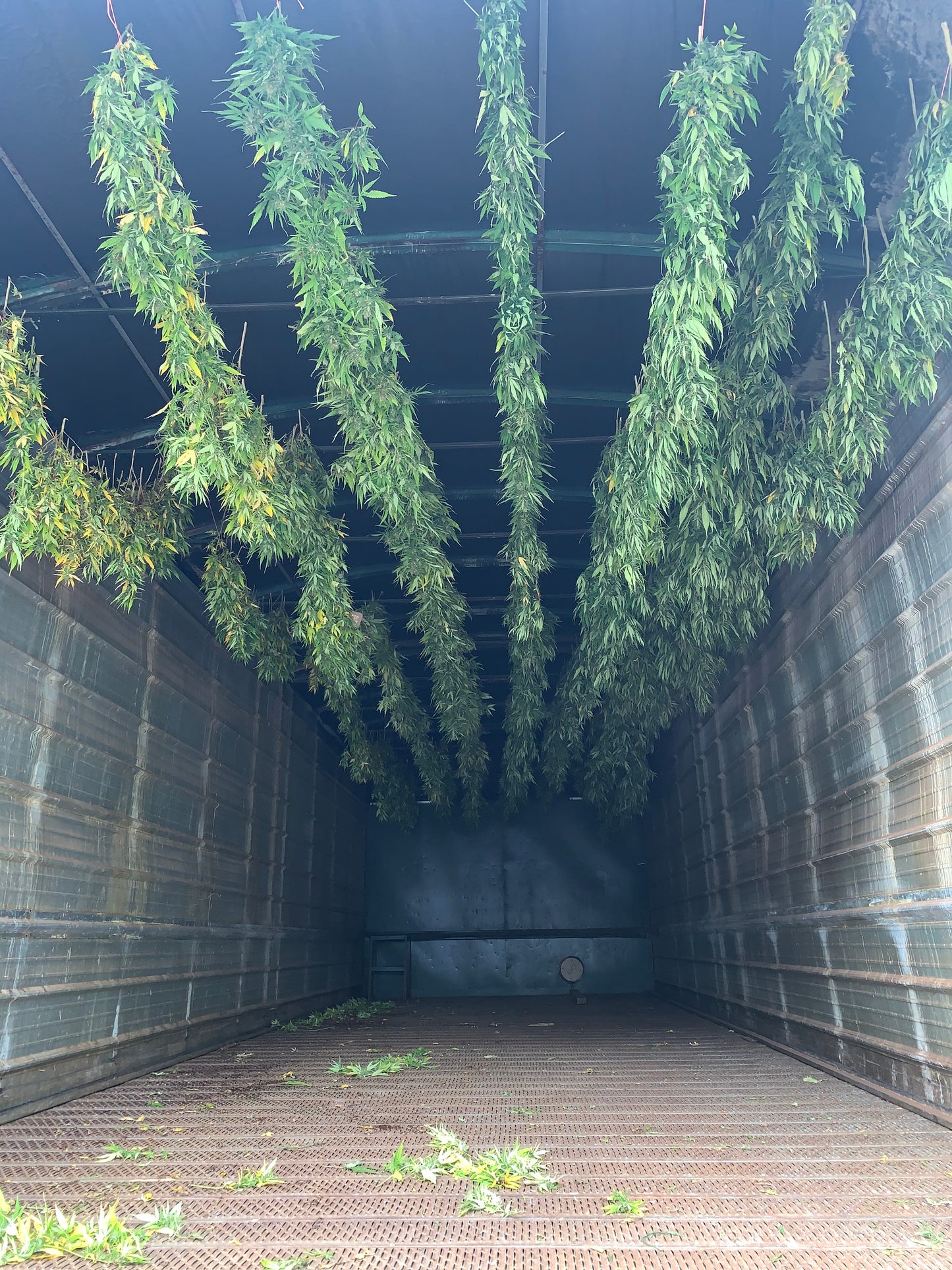 Origin Story of Hempire Innovations 
Disclaimer:
Some of the people initially involved in the company are no longer a part due to various circumstances. 
Furthermore…
The initial idea for Hempire Innovations was conceived back around mid-January 2018.  Myself, Jared Drake, and my former partner, Samuel Chance Clark happened to be in the same Farm Business Management class.  We were both majors in Sustainable Development with a concentration in Agroecology and also shared an interest in hemp.  The theme for the class was to simulate the administrative side of a farm business, so we teamed together to create an imaginary hemp farming company.  
At the time we called it Hempyramid Refinery.  In hindsight the name was fairly cringe and suspect; yet we rolled with it for the class.  We used Maryland medical cannabis regulations to emulate a NC grow-op.  We had projections for what revenue we would earn from an indoor marijuana setup.  Our business plan for the project was based around farming outdoor hemp for fibre while running a tropical passive solar greenhouse grow to provide unique local food for the community.  The plan stated that once medical cannabis was legal in NC, we would obtain the licensing and switch the greenhouse over to medical production.  We had it all envisioned as sustainable, ethical and profitable.  Our class instructor like the idea so Chance and I decided to keep the idea alive.
At this point, Chance and I were applying hemp to any class we could within our major, we were driving our professors a bit crazy for the remainder of our college career.  We were so obsessed with hemp that we would not let up.  This in term led to meeting Coleman Putnam.  Coleman was an extraordinarily random person.  His family owns 48 acres of beautifully terraced land in Shelby, NC.  Coleman and I did an entire permaculture design project surrounding his farm.  in February 2019, Chance and I had met his family and taken a few trips out there to get research together.  We had done a solar survey and taken soil samples all over the land.  Our idea for the hemp farm was not well received by Coleman's family.  so we had to move on from them even after all of that work.
Also in February 2019; I had known a man name Harrison King from many Sustainable Development classes.  Chance and I conversed and decided he would be an asset to bring into the business.  We got to the drawing board with many sessions in the AppState Entrepreneurship Center and late nights in the library.  We pieced together a solid enough business plan; I don't know why we wanted to do this while still in college.  Regardless we organized Hempire Innovations LLC on March 19, 2019.
Luckily enough, I had the perfect apartment in Boone, NC that year for having a home occupancy.  I got permission from my landlord to do business there; we had the best location in town, being in the midst of the most popular bars.  We opened on 04/20/2019  and had to shut down before 05.31/2019 due to zoning restrictions and disputes between the town and my landlord.  Within that period of time, we made $5000 in revenue solely off of hemp flowers and pre-rolls.  We were all ecstatic to have done so well, yet disappointed we had to stop our operations.  This was the beginning of the hard times for inner business relationships.
Now that we did not have a storefront anymore, we decided to get some sustainable farming experience so we could qualify for a NC Hemp License. Chance and I got an internship with Joe Delventhal, he had his own lease at Fig Farm in Valle Crucis, NC.  Harrison King, our 3rd business partner had missed the window of the internship yet he still contributed.  We farmed with Joe all summer and sold produce to local Boone, NC restaurants.  After a lot of hard work we were able generate enough revenue to qualify for an NC hemp growers license.
Late August 2019, the three of us decided to open up a legitimate storefront on a commercial lease.  (Coleman was no longer in the picture here). We were still in Boone, NC although the location was not great.  We did not mind it since the rent was cheap and it was a nice open space. We had a decent operation going on! Every month we were paying the bills and generating profits.  It was great, we had a nice iPad point of sale, a tidy display case, and several loyal customers. Remember we were doing all of this while balancing school and a part-time job too.  Anyways, what we weren't expecting was Covid-19.  Boone, NC is a college town with a college-centric economy.  When Covid hit, I subleased out the storefront.  I sure was glad I made that decision because Boone became a ghost town.  All of the college students went home to take classes online.  We were out of the storefront on March 8th, 2020.
At this point, we were fairly disappointed to have to close down our store again. Bootstrapping a business without ample funding proved to be difficult.  The losses did not suede us to give up.  We decided to apply for the NC Hemp Growers License; yes we were approved!  Our friend Ambrose had a few acres in Sugar Grove, NC.  It was a last-minute arrangement we had to work out.  This was a ton of work.  When we first started, the whole plot of land was grassy fields.  We did not have a tractor; we used push mowers, shovels, mattocks, and weed walkers to create farm plots by hand.  We were only able to use the hand tillers for the garden plot at the foot of the hill.  we were breaking through rock and sweating like crazy!  We also set up a gravity-fed drip irrigation system that ran through all of the hemp rows.  We had three hemp varieties, approximately 100 plants of each.  Our growing season went well and our crop passed the state testing.  We harvested and then dried our hemp crop in a tobacco barn in Wilkesboro, NC.  It was a successful rookie growing season!
After having farmed hemp for the whole summer, there were a lot of things for us to be proud of.  After a culmination of things Harrison King was no longer a part of Hempire Innovations LLC starting in Summer 2021.  Soon afterwards, Chance Clark decided to leave the company on good terms.  Chance and I may possibly farm together again.  
Now Hempire Innovations LLC belongs 100% to me, Jared W Drake.  It is bittersweet; I believe it had to be this way after everything was said and done.  I am not giving up of Hempire Innovations LLC.  Everyone who has helped me to this point will be remembered and I hope the company will be in a position one day to give back.  As of now my focus is to gain brand recognition in the ecommerce/local market and develop a sustainable farm on 300 acres of land in Ash, NC.  I want to invest, not only in consumables, but also industrial hemp products.  This is a long term venture that is not solely defined by the hemp derived products we currently sell.  I want the company to diversify into all things hemp; fibre is where significant innovations will arise.  Until then, your support is funding our maturation while we're taking steps to achieving our vision.
Photo Taken: 07/25/2020 - Pop up shop Starway Flea Market Wilmington, NC
__________________
Thanks for Reading
: Jared W Drake